Providing the public with the most accurate and up to date information and qualified family law attorney listings in their state to represent them.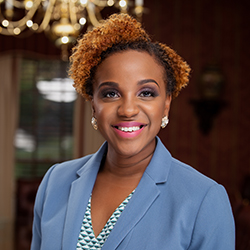 Fatina J. Lorick
122 N. McDowell Street
Charlotte, North Carolina
28204
704-945-8656
www.McAdoolorick.com
Charter Member
Fatina's area of expertise is family law. Ironically, she did not always know that she wanted to be an attorney. She began her career as a social worker for the Department of Social Services, Child Protective Services, because she knew that she wanted to make a positive change in the world. As time progressed, she realized that the best way to change the world was to help children and families. Although she enjoyed her prior career, she felt that there was something else for her. She desired to make a larger impact in the lives of children and families. She knew that as an attorney she could continue to be an advocate for children and families by providing legal representation to family law clients.

Fatina is not a stranger to the courtroom. As such, she spends a great deal of her time in court advocating for her clients at least once a week and sometimes multiple times a week. In line with her passion for children and families, Fatina has experience with Mecklenburg County Guardian Ad Litem. Specifically, Fatina provided legal representation for abused, neglected, and dependent children. Prior to opening her own practice, she obtained litigation experience through taking on clients in the North Carolina Central University School of Law Clinical Legal Education Program's Family Law Clinic. Fatina is a managing partner at McAdoo and Lorick, Attorneys at Law where the majority of her practice involves family law cases. Fatina has been in private since 2016. Fatina loves being in the courtroom, and she has a true passion for trial advocacy.

Fatina enjoys giving back to her community. She is currently on the executive board for several organizations including John S. Leary Association of Black Lawyers, the North Carolina Association of Black Lawyers, and the Omega Tau Omega Chapter of Alpha Kappa Alpha Sorority, Incorporated. Fatina find satisfaction in being active in her community.